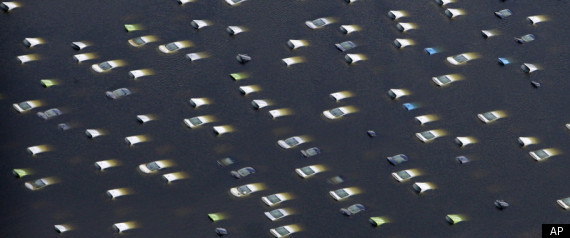 Photo Credit: The Huffington Post
Now would be a good time to get the much-maligned hydro-automobile o
ff the ground
, so to speak. A Honda manufacturing plant in Thailand has been left under water by the catastrophic and record-breaking flooding in the Asian nation.
The plant, located north of the Thai capital Bangkok, was first inundated with flood waters a month ago, and still remains beneath several feet of water. "The whole area is now a big lake," said Honda manager Hideto Maehara, after traveling to Thailand to view the devastation. The flooding has left more than five-hundred people dead and cost the Thai economy billions of dollars in lost revenues. Hundreds of thousands of citizens have been forced from their homes and are living in temporary shelters until the flood waters recede.
If
the flood waters recede...
The news is a hard break for the automobile manufacturer. The devastating March 11th earthquake and tsunami in Japan wiped out several key factories responsible for making crucial parts in the manufacturing process. Experts say that the flooding in Thailand has halted the production of more than 90,000 automobiles, with no end in sight.
More rain is in the forecast for the area over the next several days.